News from The Saracen's Head...
OCTOBER BLOG:
We were delighted to speak to our wonderful suppliers of Norfolk produced Shiitake Mushrooms; Woodfruits. 
October in the kitchen wouldn't be the same without mushrooms – and we've got the insider knowledge on growing these deliciously woody flavoured fungi, plus a couple of top tips on how to start your own sustainable off-grid enterprise. 
Head to the blog page to read more…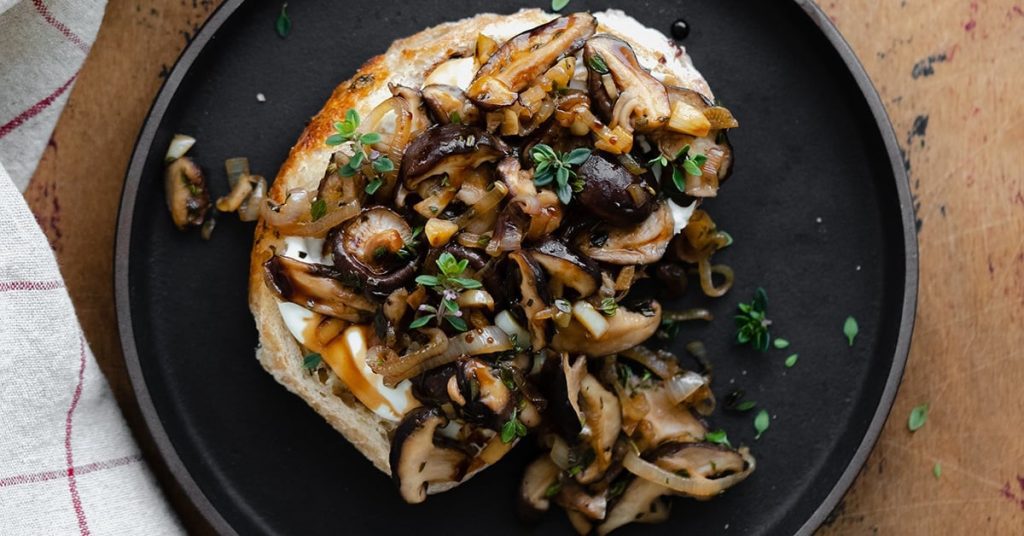 DATES FOR THE DIARY…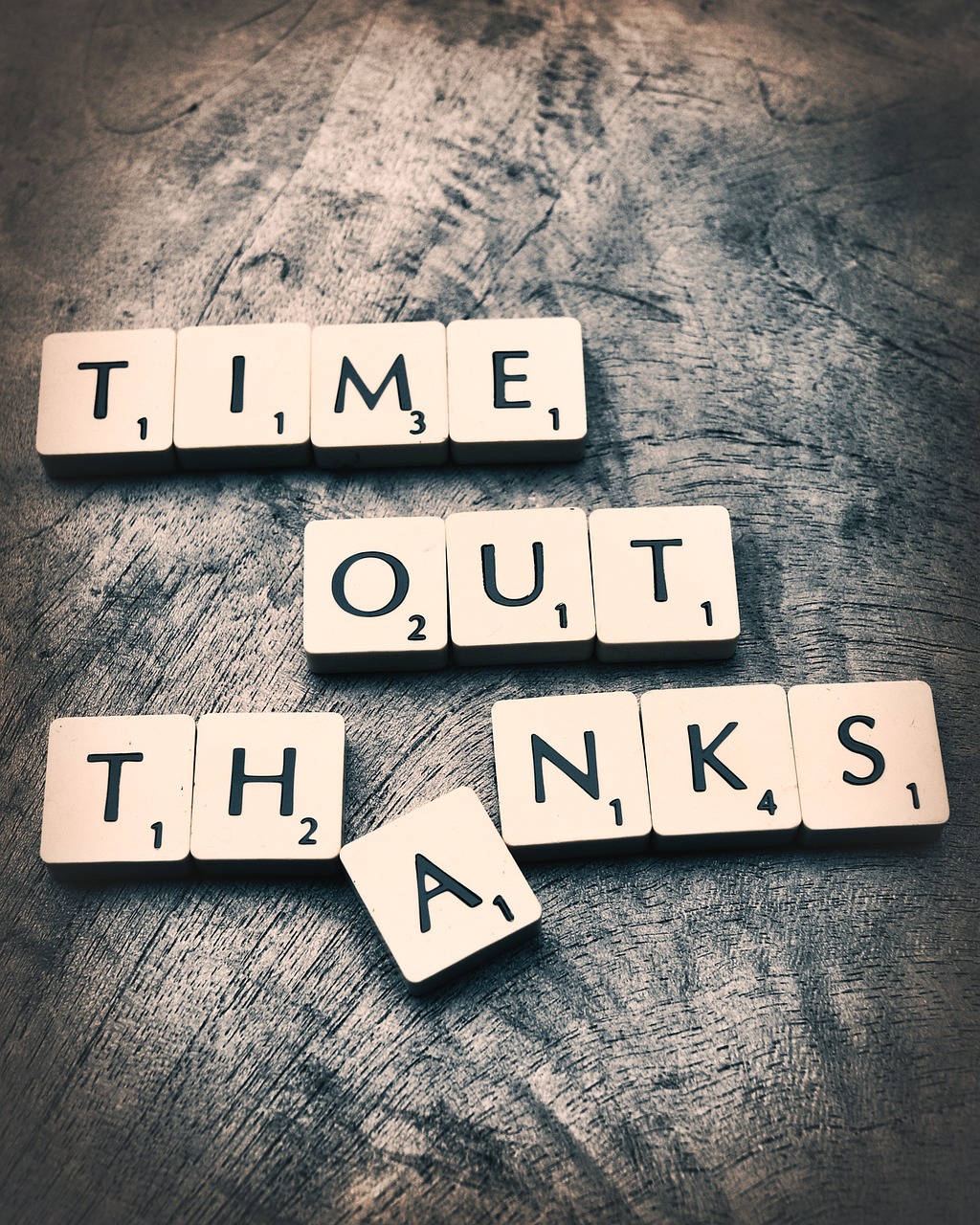 We will be closed for a short break from after Sunday lunch on September 24th – reopening for dinner on Wednesday 4th October. 
SEPTEMBER IN NORFOLK…

This month's blog is all about where to go and what to do in Norfolk this September. There's so much to pick from but we've decided on five of our favourites to keep you and the family entertained, before the colder weather hits.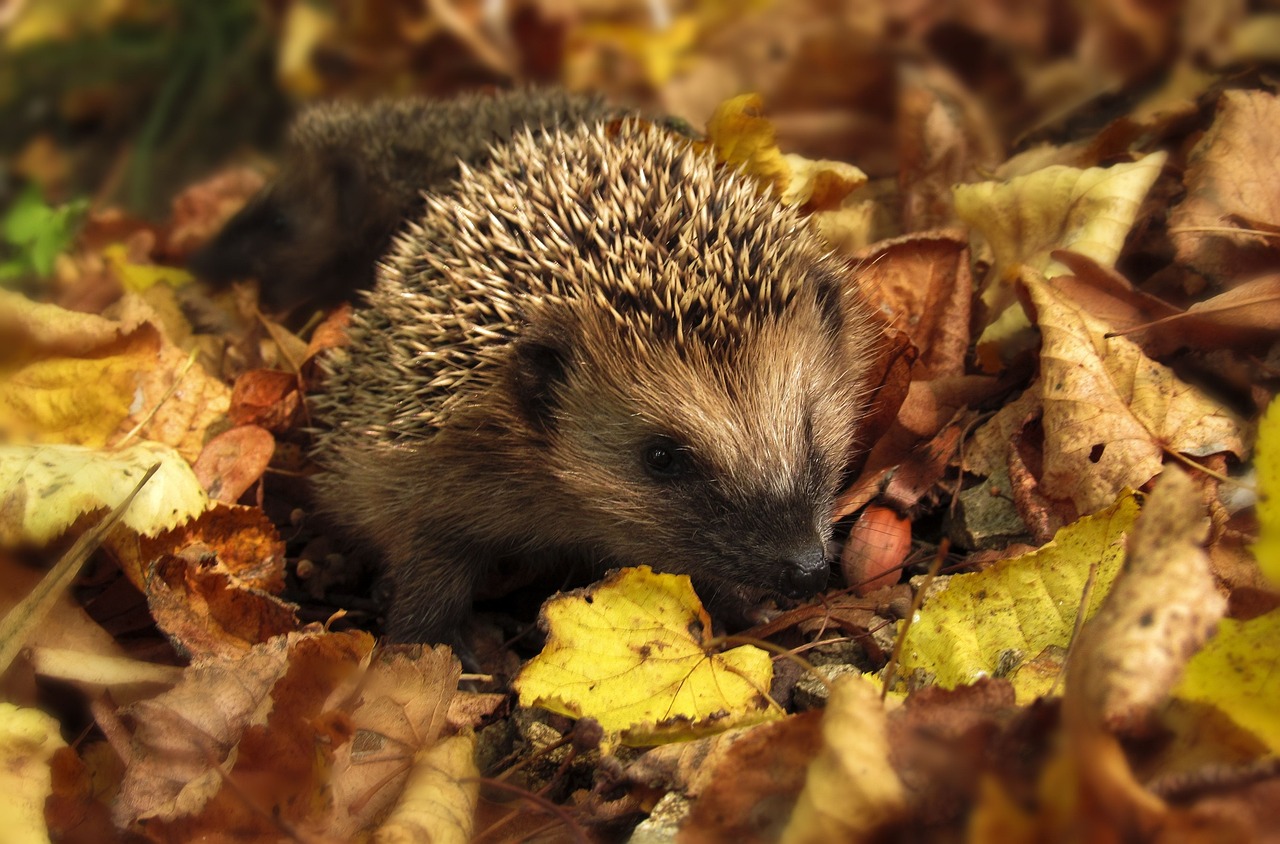 From boating about on the broads, seal spotting visiting historic buildings and hearing fascinating stories from the past on in our heritage open days – we've got things covered for your September break in Norfolk. Head to our blog page for the full article.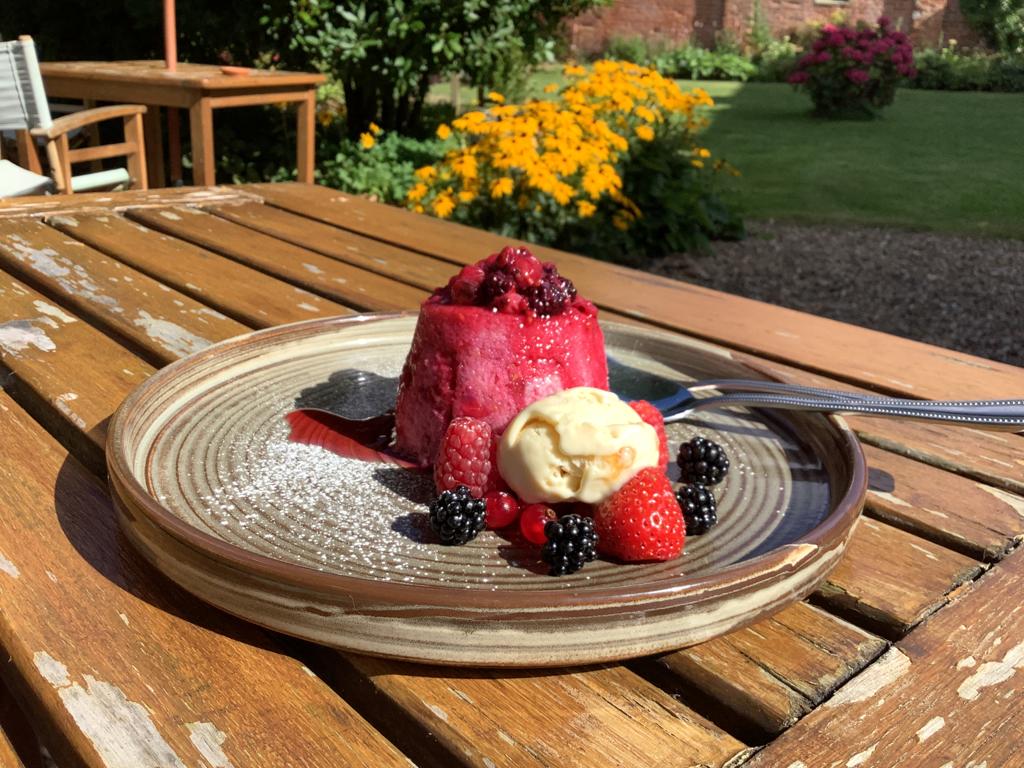 AUGUST BLOG:
Summer Pudding Recipe
It may have been a bit meh this summer, but we've got a recipe that will make you feel like you've stepped into the most glorious summer day.
Even for beginners, this recipe is as easy as 1,2,3. So grab a basket, and get out foraging in Norfolk's hedgerows before autumn hits.
Head to our blog page for the full recipe.
JULY BLOG:  DANN'S ICE CREAM
This month's blog is a chat with our friends over at Dann's Ice Cream. Dann's is famous for its natural, creamy taste and amazing flavours. 
Simon and his family have been creating bespoke Norfolk made ice cream, lollies and sorbets since 2007, on the stunning countryside farm in Tuddenham. 
Using milk from their own dairy cows and eggs from their free range hens, this award-winning Norfolk business supplies The Saracen's with the finest flavours of ice cream to go with our home-made desserts.
Head to our blog page to read the full piece.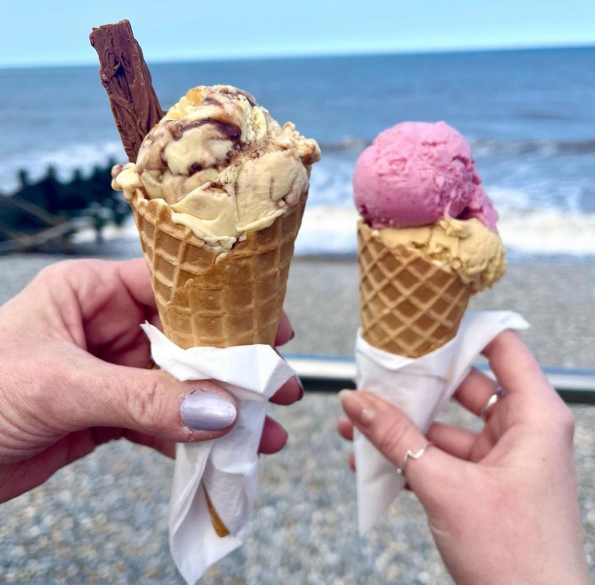 Norfolk is well known for its abundance of celebrations, festivals, fetes and summer events. Whether it's a small traditional village gathering, with quintessentially British dog shows, car boots and a tombola, or one of our bigger organised events, like Classic Ibiza or the famous Lord Mayor's Procession, there's certainly something for everyone this summer.
This week (4th July) begins with Cromer Pier's dazzling summer variety show, which runs right through until September, so there's plenty of opportunity to see it. On Saturday 9th July we have the Lord Mayor's Procession, which sees Norwich transform into a huge parade of fun, dance, artistry and acrobatics. A visit to Houghton Hall is always breathtaking, and this summer Turner Prize nominee Sean Scully has a remarkable exhibition up in the grounds and inside the hall. Smaller Than The Sky is on until the end of October. 
So, why not book a room with us, and come and enjoy some of the wonderful events Norfolk has on offer this summer? Click on the images below to find out more. 
LEFT TO RIGHT: CLASSIC IBIZA / SCVA / LORD MAYOR'S PROCESSION / CROMER PIER  ABOVE: HOUGHTON HALL SEAN SCULLY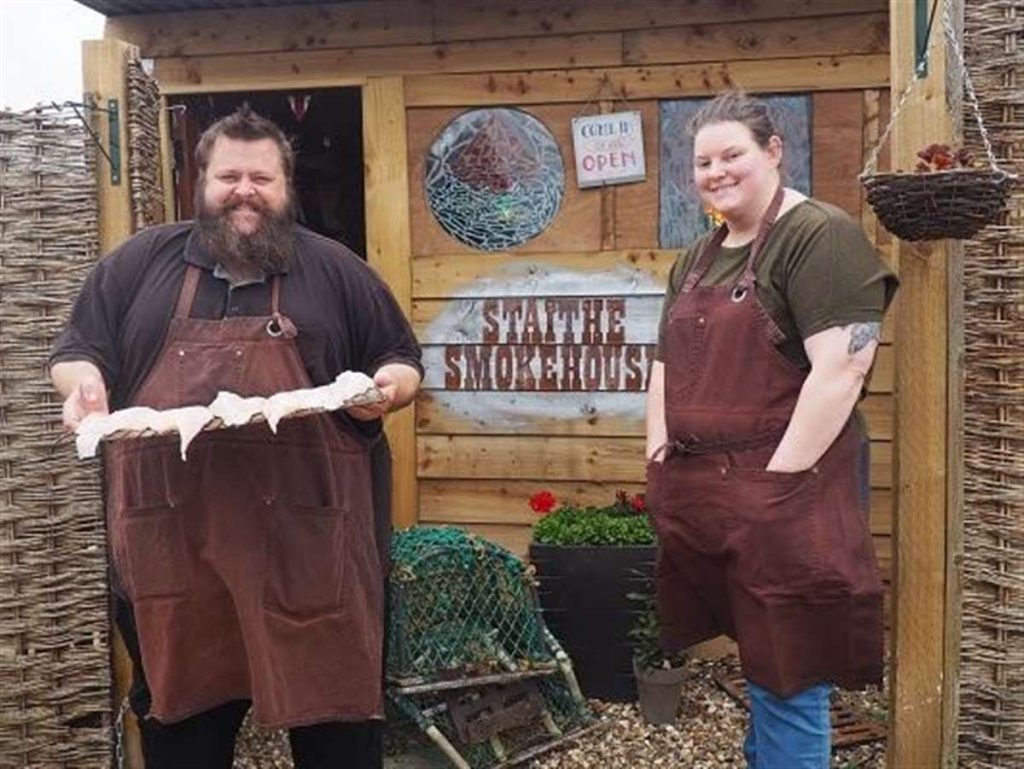 In our June Blog, we chat to Phil of Staithe Smokehouse, in Brancaster Staithe.
Phil gives us his insight into the traditional operations of an artisan smokehouse, top tips and favourite smoked fish recipes for all seasons.
Head over to our Blog page to read more…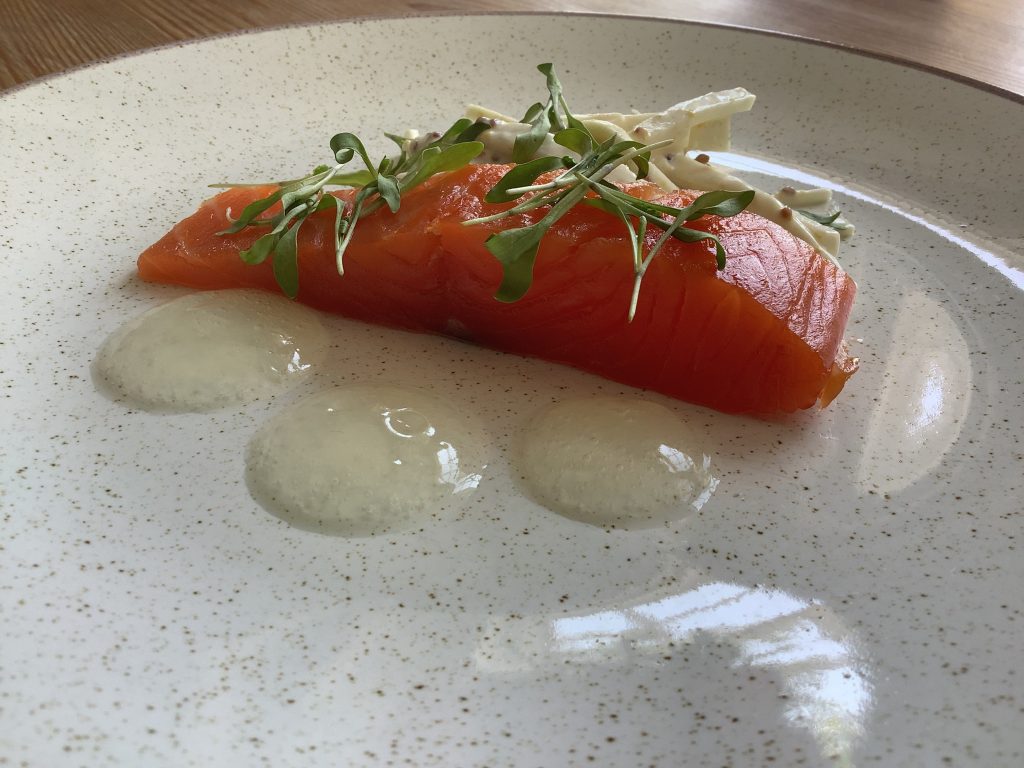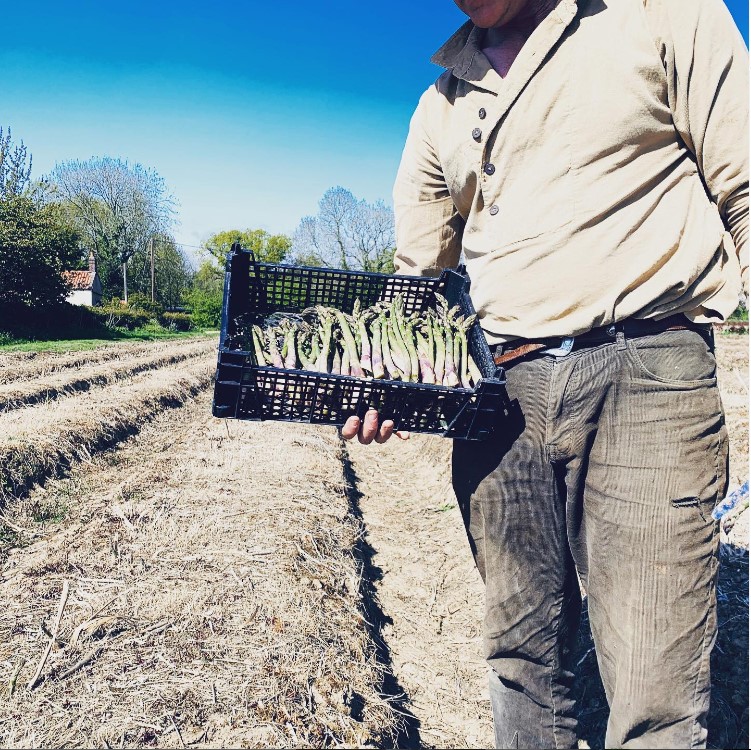 Asparagus season is here! 
This means it's time for Buffy's top tips on how to grow and prep this delicious and versatile veg. 
Head over to the blog page to read more…
Keep an eye on our news page for more tips, recipes and info from our kitchen and suppliers!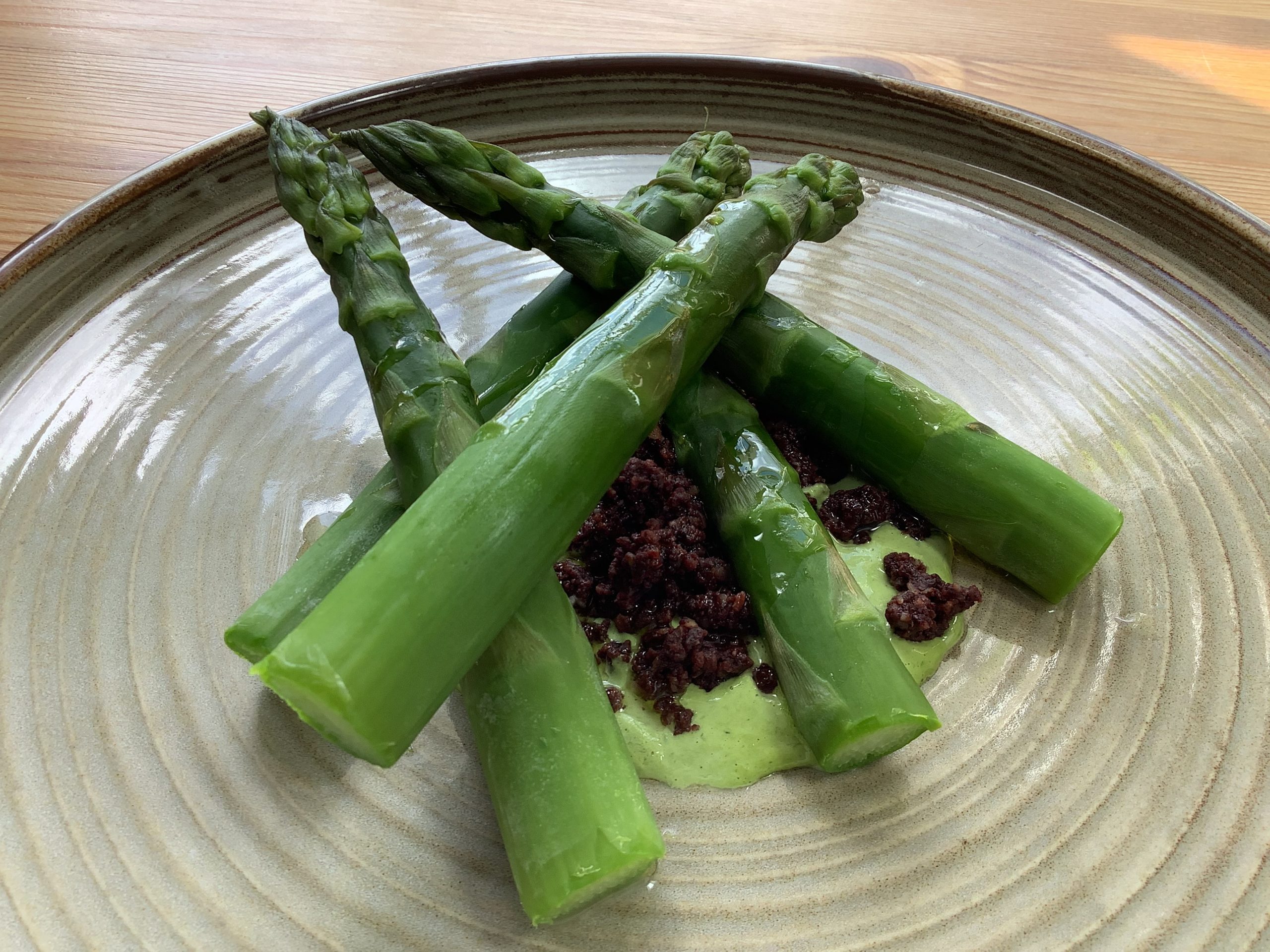 (Voting is now closed – until next year)
HELP US WIN BEST PUB IN THE RURAL OSCARS!
You voted for us and we are now shortlisted as BEST PUB in the Countryside Alliance Awards East of England aka The Rural Oscars….
Please follow and share this link to vote for us as your winning pub!
FOLLOW THIS LINK TO VOTE IN ONE EASY STEP
Voting Opens from Wednesday 1st February – closes 5th March.
The Countryside Alliance Awards 2023 honour the skills and produce, tradition, enterprise and the people who go the extra mile for their communities. 
The Saracen's Head, Norfolk, has long prided itself on sourcing the finest local ingredients to create an ever-changing yet classically appealing menu, that reflects the best of Norfolk.  
Our enduring, loyal relationship with each of our suppliers, whether it's local game and beef, fresh vegetables, seafood, or ice cream, is equally as important as the food we put on the table for our guests. 
It's this dedication in knowing and respecting our supply chain that sets us above our competition, as well as our carefully curated menus. We believe we have what it takes to win the Rural Oscars 2023 Best Pub in the East of England, and hope you do, too.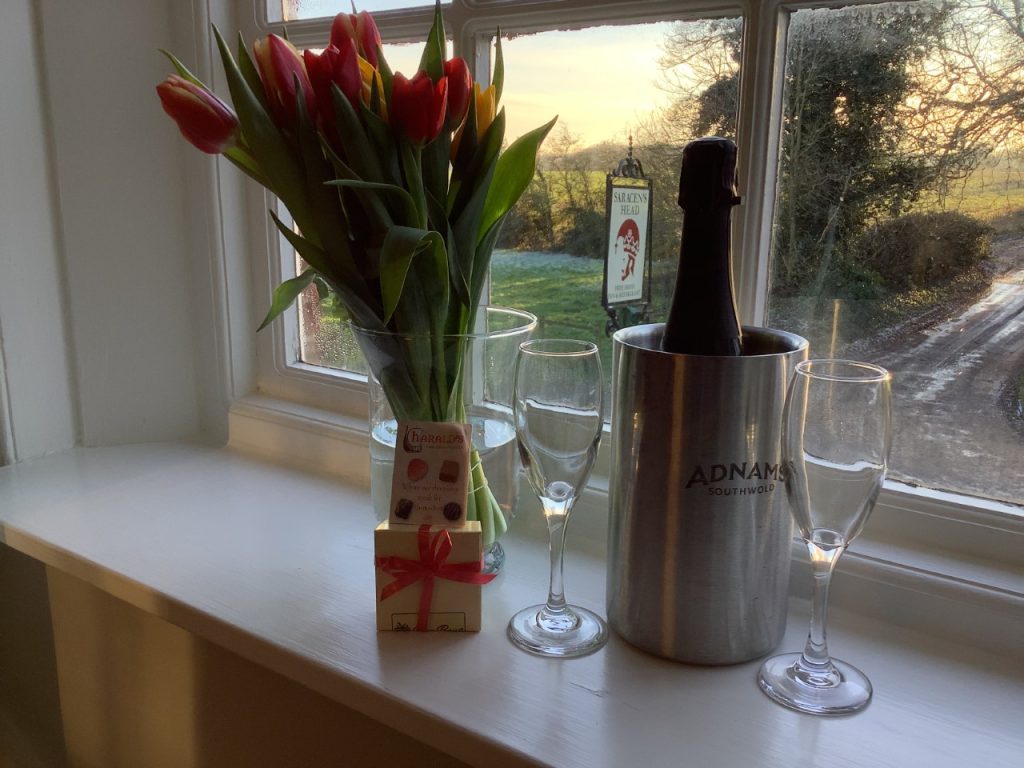 VALENTINE'S TREAT WEEKEND 
Overnight stay for two – Friday 10th or Saturday 11th February, £195.
Includes double room, 3 course dinner and glass of fizz as well as next day breakfast…
Give us a call for last minute bookings! 
01263 768909 

Catch up on all the local news, views and info with our blog posts
From places to visit locally at Christmas, to how our kitchen team works and what inspires them, find more in-depth stories, interviews and articles over on our blog.
If you'd like to contact us about any local news you feel we should include, please do get in touch!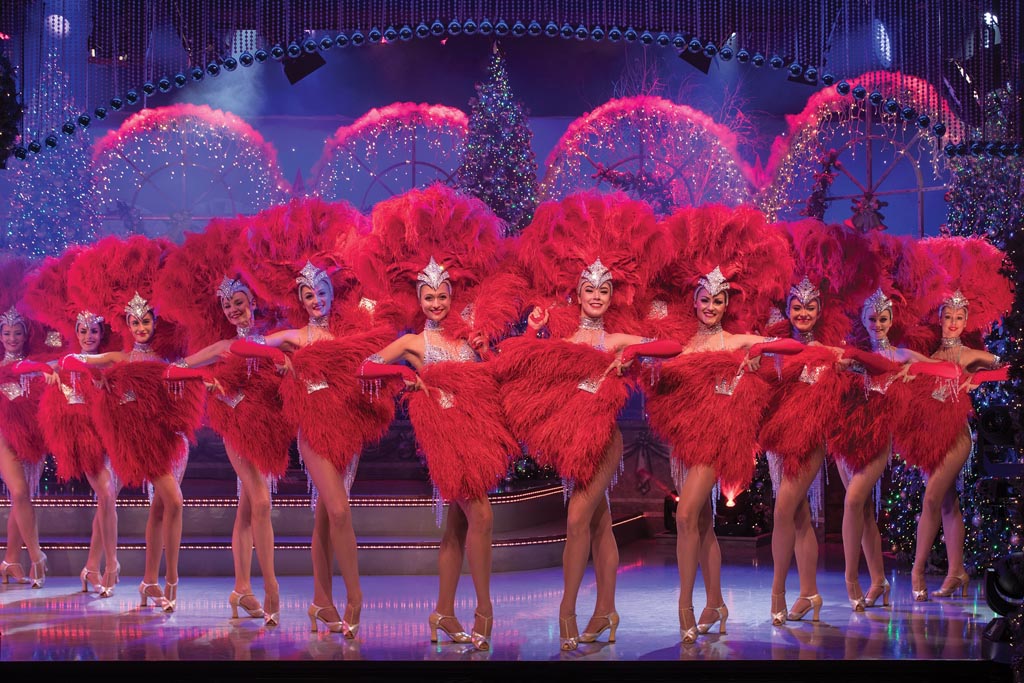 4 Stars awarded from AA as well as prestigious Rosette plate for culinary excellence
We are delighted to announce that we've been awarded 4 Stars from AA, as well as the long established and much coveted Rosette Award for culinary excellence.
This acknowledgement and award are a huge achievement for our team both in front of house and kitchen. We are enormously proud of the standard of food we serve, and it is great to be rewarded in the wider industry for all our hard work. 
GO TEAM SARACEN'S!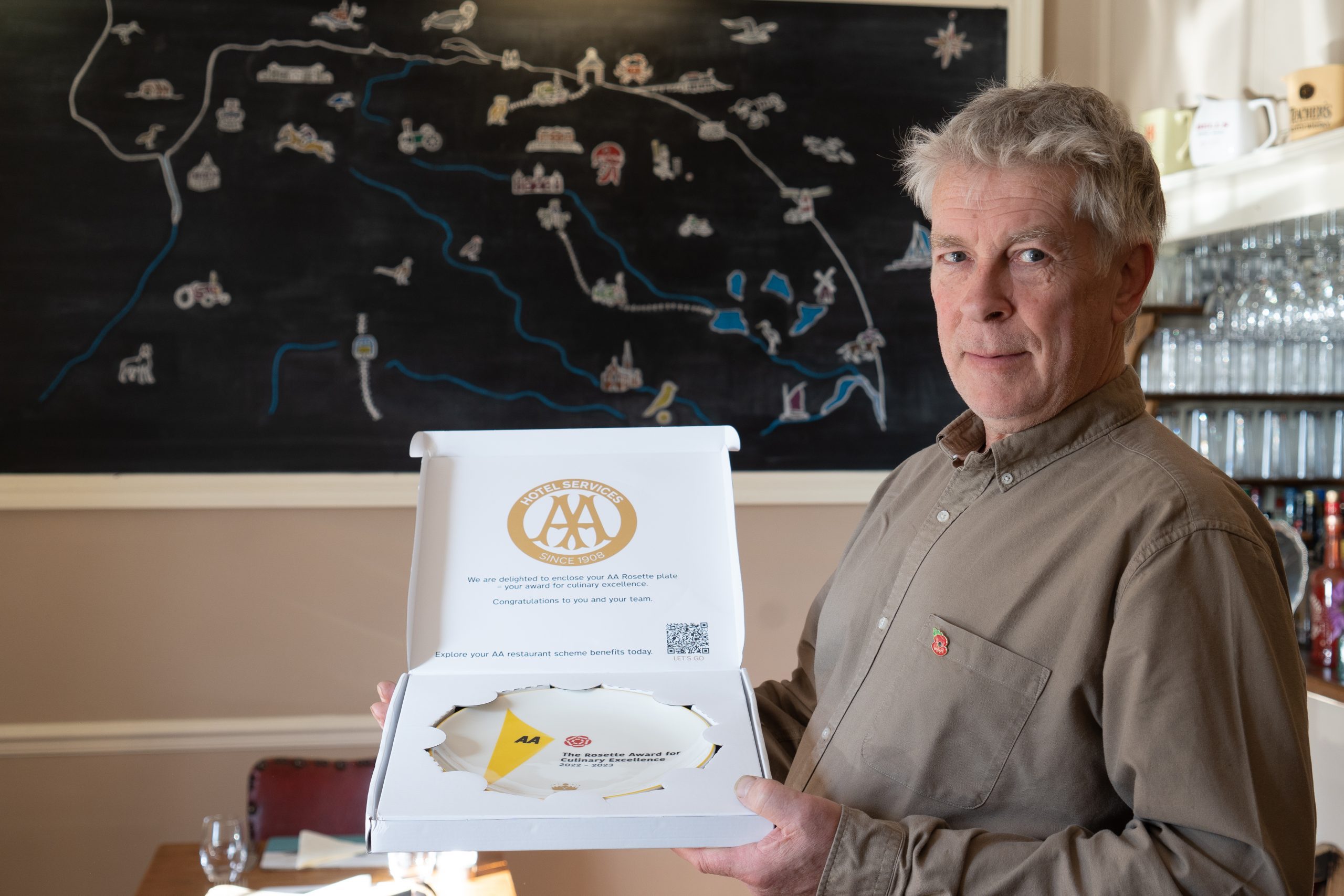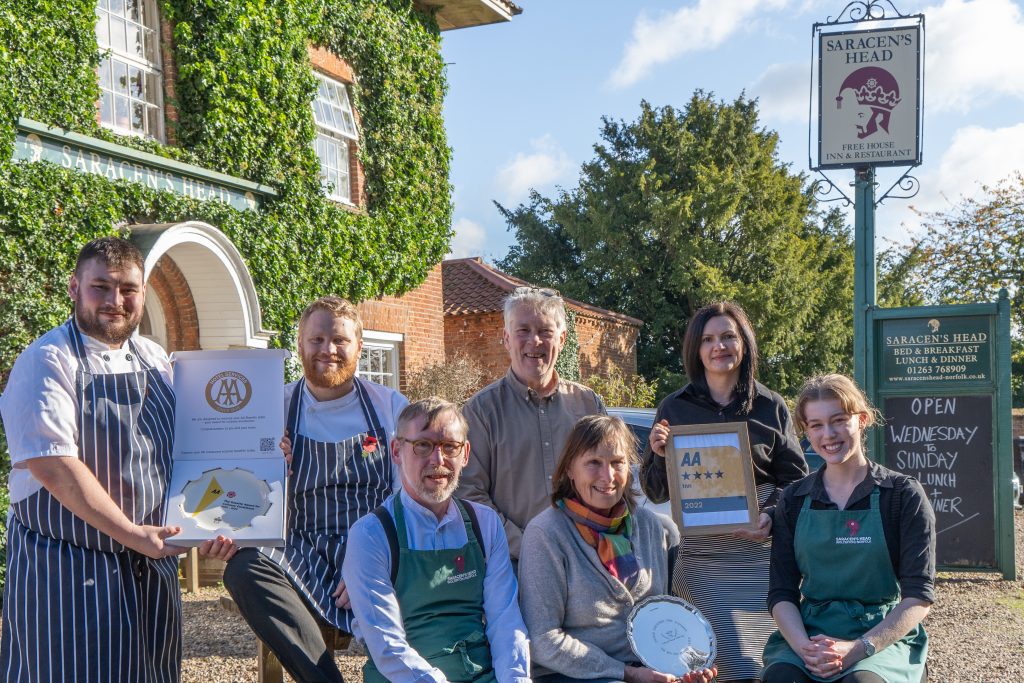 Nominated for Countryside Alliance Awards - The Rural Oscars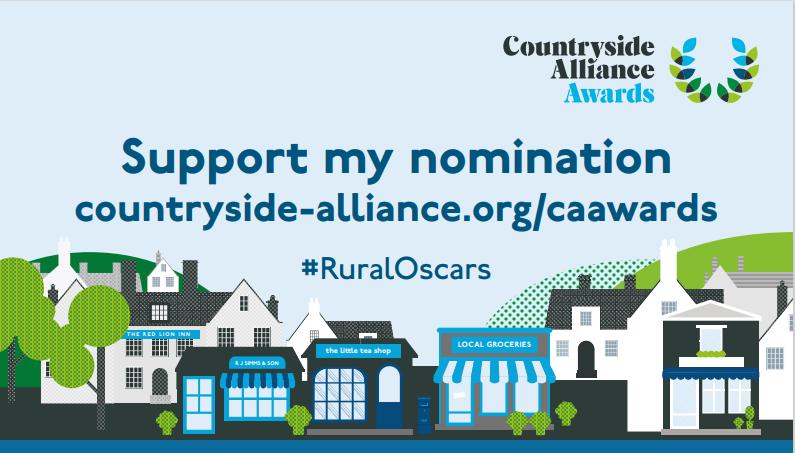 We are thrilled to have been nominated for a Rural Oscar aka Countryside Alliance Award 2023, for remarkable contribution to our local area – this is the gold standard in rural business awards and a huge achievement to be nominated… but we need your help to WIN!

Please support us – nominations are open until November 18th 2022 – just follow link below!
Countryside Alliance Awards Nomination Form (typeform.com)

Thank you 
News from summer 2022 - Passion for local ingredients earns restaurant a 'Food Hero' accolade