Celebrating our Suppliers – Woodfruits, Norfolk's finest bespoke producers of Shiitake Mushrooms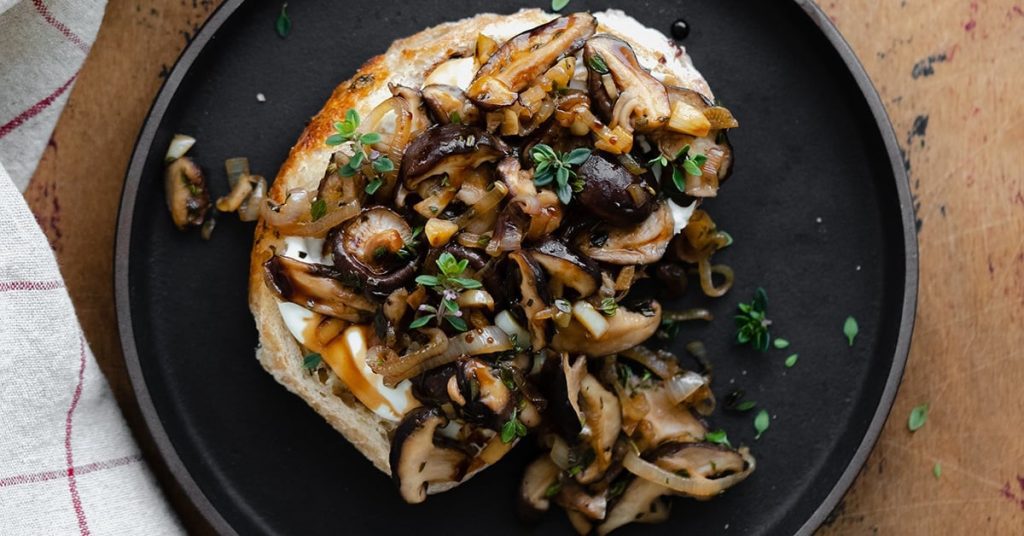 This month we talk to the inspiring family run and award-winning Woodfruits, who are producers of shiitake mushrooms, and winners of the North Norfolk Business Awards in the Environment category and Norwich and Norfolk Eco Award winners in the Eco Food Producer category.
Woodfruits owners Anton and Vicky, with their two daughters, live and work in an expansive and magical woodland dell, tucked away up a tiny road in nearby Corpusty, a six-acre area that originally formed part of the industrial and holidaymaker's railway line, stretching across North Norfolk to Great Yarmouth..
The couple originally worked in agriculture but were always interested in living and working more sustainably, and felt the drive and desire to start their own business, with permaculture at the heart of it.  
A SUSTAINABLE LIFE RUN WITH EFFICIENCY
Since arriving at the dell dwelling in 2005, Anton and Vicky have quietly and confidently taken their originally sustainable lifestyle to sophisticated heights, developing an entire, impressively effective system of permaculture, in both their working and domestic lives. This is no hippy-dippy set up, it's an efficient working micro-system of exchange between human beings, landscape and the elements.
The care and expertise involved in growing the Shiitake mushrooms is impressive, as is the way in which this family operate their lives; the dell is neat and orderly and there is a calm, civilised atmosphere. Every area and structure have a job, and a story.  The sustainable approach makes use of solar pv, rainwater harvesting and biomass heating.  The main house is a lovely open plan timber building, with everything you'd expect in a modern home. The house and its accompanying outhouses are all made using the same reused timber.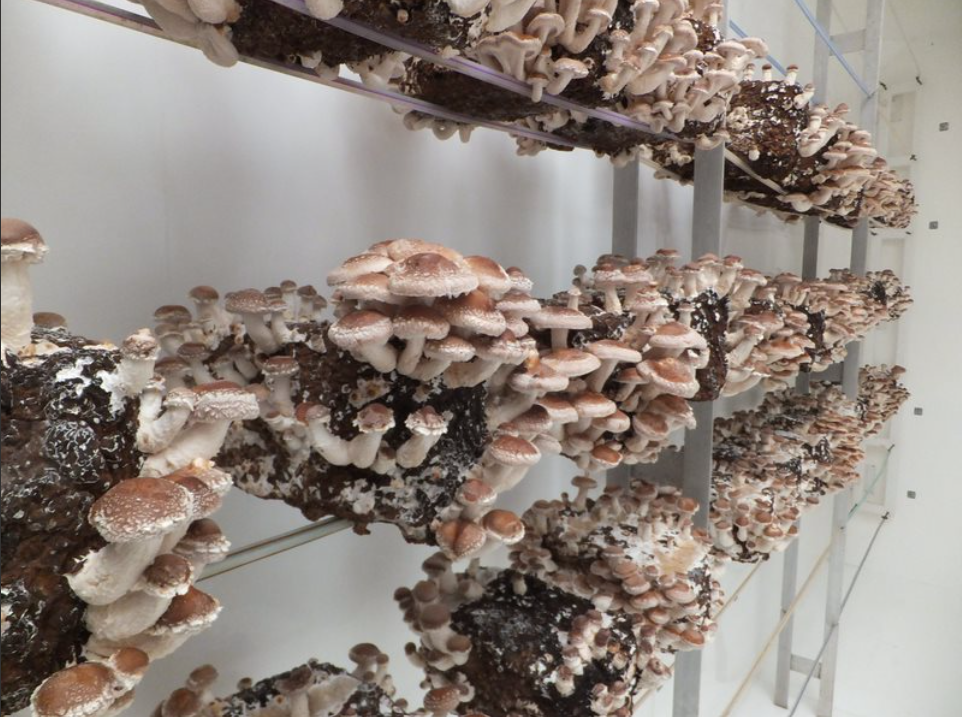 GROWING THE SHIITAKE – THE PROCESS
The Shiitake mushroom mycelium is started off in a growing room (transformed from an old lorry body) and mixed with sterilised oak sawdust, a by-product from a nearby mill, and mixed with barley grain in bags until the colour of the fungi begins to change and form into blocks that look like large malleable bricks. The mushrooms are grown over 12 weeks at 24 degrees, in a structure which is made from reused timber cladding saved from a wind farm project. The blocks are then transported to the fruiting room and there is a marvellously pungent earthy smell and a constantly monitored cool temperature. This move from the growing room to the fruiting room is the 'cold shock', that kick-starts the growing process. The dense earthy blocks are lined up on shelves and gradually the fungi develop to stretch themselves up and out in delicate branches, like something other-worldly. These blocks are checked throughout the day and are harvested within a week – each block providing two or three crops.
Anton and Vicky clearly run a very efficient work/life system that has a nuanced balance, gained from a deep respect for their environment and the world in which we inhabit.
ASK WOODFRUITS:
Three pieces of advice you'd give to people interested in doing something similar?
Research the design principles
Think global, act local
Create a sustainable live/work space without compromising the integrity of the original site
Most proud achievement?
The ability to fit in seamlessly with the world around us and have nature feel comfortable in our presence
The hardest challenges you've faced?
Getting people to understand the concept
Favourite shiitake recipe?
Fried sliced shiitake with chilli flakes on wholemeal toast – plain, simple, delicious!